Feel me. I am smooth to the touch. Don't hesitate. Even when you don't admit it, I know that you want me. There would be no use denying a fact as obvious as that.
What I want, I get. Sometimes I don't even have to try.
Just about every man in the universe wishes to languish in my company. One slight touch from me can make any man dizzy with desire. I make him feel powerful because I don't resist. I flow, with the grace and aplomb of a running deer in the prairie.
I have intensity in high proportions. Even without making a big effort, I know I will stand out. Call me cocky, but really, I am just stating facts. You may hate me for it, but you will find yourself following me even if it's against your mind's desire.
Shame is alien to me. It never existed in my vocabulary. I could just devour your entire being in a single swish. I am  a queen, seated high on my throne and rightfully so.
I adorn the arms of the rich and the famous. And nothing less than that. I leave the person who initially possesses me but can't afford to keep me.
The wind gently blows to enhance my features. I do predict that along with the breeze, your heart will also be blown away by me. I am frail, but you ascribe me more power than what is due me. Your fault, I'm afraid. Your lustful eyes are making you sacrifice everything you have to live for.
I arouse the same intensity of hate and jealousy from my fellows. I am preciously guarded–pricey, dicey and stylish. I go well with almost anything, and I am usually associated and entrusted with the most precious and the most beloved of things and people.
Unfortunately, I am forced to be unfaithful in order to guard my deep dark secrets. I leave my lovers when they are at the height of their emotions, their passions and extreme adulation. As they speak undying devotion, I veer away and head for the nearest exit.
I get easily suffocated. I maintain the good impression I have built for my lover but I don't stick around long enough for him to discover what I really am made of.
I started out humbly,lower than most people would care to admit to have started out.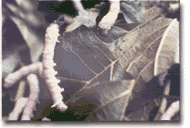 I used to be a worm. Hated, forsaken and abandoned. I had to work my way, inch by inch so that I would gain the recognition I thought everyone inherently deserves in this world. I was often unwelcome in all affairs. If I do grace an occasion, it would usually have to be done in secret. I never got invitations and I never belonged to anything. Everything was a mess, and I felt like I had no future then.
Fortunately, I grew up, somehow improved but it was still not enough for me to make my mark in this world. I realized that in order to become desirable I have to earn my way to my freedom. I was mangled, man-handled, tortured and burned almost to a crisp. It was a very painful process. I had to make my own pathway, make myself known amidst a sea of other cocoons who are trying to do the same thing.
We were biting each other's backs, not knowing that we could have helped each other through that painful ordeal. That's why even when we emerged from that painful state and became successful in our own right, we never remained friends.
In my ultra-impoverished state, I made the worst decisions of my entire existence. If you see me now, you may not see any physical trace. You might not see the pain beneath all the smooth flawlessness and high market value. But it's there. I feel it deep within me.
Satin silk is my screen name. But beneath the smooth textures and refinements, a dark past lurks within.
Yes, I am very resilient with outward pressures, but I cannot let any man discover that I get brittle over time and I am highly vulnerable to those I bestow with my intense passion, devotion and emotion.
I dump those who own me way before they grow tired of me and decide to abandon me, because I know that when I fall head over heels and then he suddenly decides to leave, I will be beyond repair. If anything, I no longer wanted to go back to my old way of living where I am alone, forsaken, hated and left to live and fend for myself without a purpose.
When the smokes and mirrors grow thin and familiarity sets in, I know that my alluring skin would no longer be enough to keep my lover at bay. There will always be newly-produced silk that will be shinier, more active and more beautiful than I am.
To attract a lover, that's very easy.
But to have the assurance of being cared for forever and loved in spite of all the shadows of the past is a divine miracle that may or may not happen in my lifetime.
Until then, I hope. I wait. I play. I flow and I do my usual thing.
Secretly and in the midst of it all, I look out for that one lover who can love me enough even when I am no longer as playful and visually satisfying. I look for that lover who will help me out willingly and gently when I find myself unable to hold everything in.
But I acknowledge that I might as well be looking for a mere phantom and not a real lover. Finding him proves to be an elusive secret that even my deep well of experiences cannot truly fathom.
At the end of the day, it always boils down to finding the perfect match I could grow old with.