Currently the world's most famous leisure areas are malls, such as this perfectly engineered edifice called Oakwood Mall..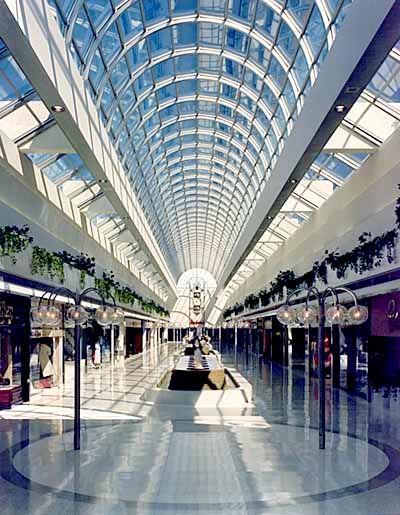 Many investors give so much money just to be able to produce something as colossal and income-genera- ting as this one. And I can't blame them for doing so. Because there is really so much money involved in the business of whetting an average consumer's appetites with images of wealth, abundance and acceptance.
I used to frequent these malls, but lately as I go home from school, I find myself choosing to walk around the territories of my usual mall stopover instead of walking inside after a hectic jeepney ride. I used to reason out that the airconditioning system helps cool my brains and allows me to be in a better frame of mind. But a lot of things changed my point of view lately. First, the fact that a mall is a business, and not something that is innocently tailored to suit consumers' fancies. Second, the turmoils within that are being triggered by the illusions of grandeur produced by the acquisition of more gadgets– a thing which is futile to the soul and killer to one's budgeting schemes.
And just like the trend of my previous posts, I write in the perspective of the inanimate object.
Enter you people on my grand edifice. Rich, poor, young or old, literate or not, welcome aboard my facilities. Check out and drool, check out and drool at the newest displays… Here's something you could buy on your first paycheck. Wait, wait, wait, there's another one I knew you ladies would like to have! And there's another one, and another one. From the glazed looks in your eyes I can see how much you want me, how much you want to devour all of me, put as much of me in your shopping bags as your money can allow.
I revel in your illusions. I exist to feed your fantasies of what a good life means. But even I don't have a unified perspective of good, because all that's fed in the machinations of my core is to generate income for my maker. I know my purpose, and I circulate on that every single day.
But actually, you can never place all of the blame on me. I AM LIKE A MIRROR TO THE PERSON I AM SERVING. If the person has no control over his or her spending, I mirror a plethora of goods which are mostly wants and not needs. I am not built with a conscience to nag at you when you are already overspending. It is something for you to know and for me to find out.
I am a bad friend. I tend to provide temporary solutions to problems which require nothing from my facility. Maybe a tissue or two, I can provide. But I can never provide peace and comfort– the two things all forms shopaholics are known to mistake me for.
However, I have had satisfied clients. Yes, these are the people know exactly what they need from me and take nothing more than that except on occasional splurging sessions. I MIRROR EFFICIENCY IN A PERSON WHOSE BUDGET IS WELL-PLANNED AND IN CONTROL.
I am a drug to those who are easily addicted. I can drown people with feigned happiness for as long as I can keep them in my wing.
But let me whisper my confession here and now. The thing is, I am just a substitute for the priceless things which people cannot find from within. I project wealth, when real wealth is having good health and a good core for one's soul. I project false comfort, when real comfort can be found in other people (though most are silly enough to make me a substitute for the benefit of relationships). I project a lifestyle of dreams, a lifestyle that remains empty if it doesn't have anybody else to share it with. I project abundance, but in reality I drain your pockets to oblivion at any chance I am given. I project acceptance, when in fact I am just a building and can never be a substitute for the intangible things that humans lack.
I am a prison for those who have no aim in life, but a haven to those who are driven by something else stronger than the shallow things I have to offer.
If wrongly and inappropriately lauded as a god, I am bad.
If made and considered as a tool, I am your greatest ally on consumer earth.